New Products From Tableau
When it comes to cleaning products for the home, Tableau pretty much have you covered. It was, therefore, quite a surprise when three new products arrived from them, pretty much unannounced.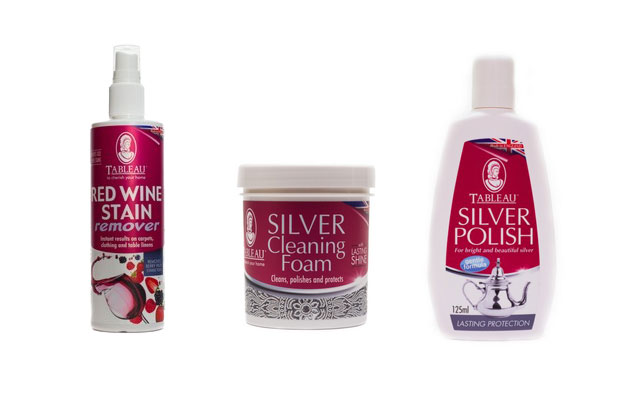 Introducing.
Tableau Red Wine Stain Remover.
This little marvel will remove red wine and berry stains from carpets, table linen, soft furnishings and clothing. It is even effective on Marble surfaces too.
Just apply liberally to the surface and work the remover into the surface with a soft brush or micro-fiber cloth using gentle circular motions. There is no need to rinse.
Yours for £5.65 a bottle inc VAT*
Secondly we have.
This tub of goodness cleans, polishes and gives long lasting shine protection.
The easy to use foam formula is great for use on large areas yet at the same time suitable for intricate detailing as all the foam is washed away leaving no polish residue.
Yours for just £4.95 a tub inc VAT*
Last but not least, there is.
This squeezable little bottle will give all your silver pieces a beautiful luster. The gentle formula cleans, polishes and gives lasting protection from tarnish.
Yours for £2.65 a bottle inc VAT*
As always click the product titles to be taken directly to the product page where you can purchase the items. You can also view all the other great products Tableau provide by clicking HERE
*P&P added at checkout.
You may also like...